One extension to summarize everything!
Website . YouTube video . Online PDF . Local PDF
Even better, deep dive into the summary source for clarity or jump right to that moment in the YouTube video.
Powered by ChatGPT
How to Use
Install the Gist AI extension from the Chrome Web Store
Pin the Gist AI extension to the toolbar
Open any website, Youtube video or PDF and click on the extension icon to summarize it
To summarize a PDF file stored on your computer, upload it in the PDF tab
Main Features
Save time
Instantly extracts key points from long articles, YouTube videos or PDFs in 1 click.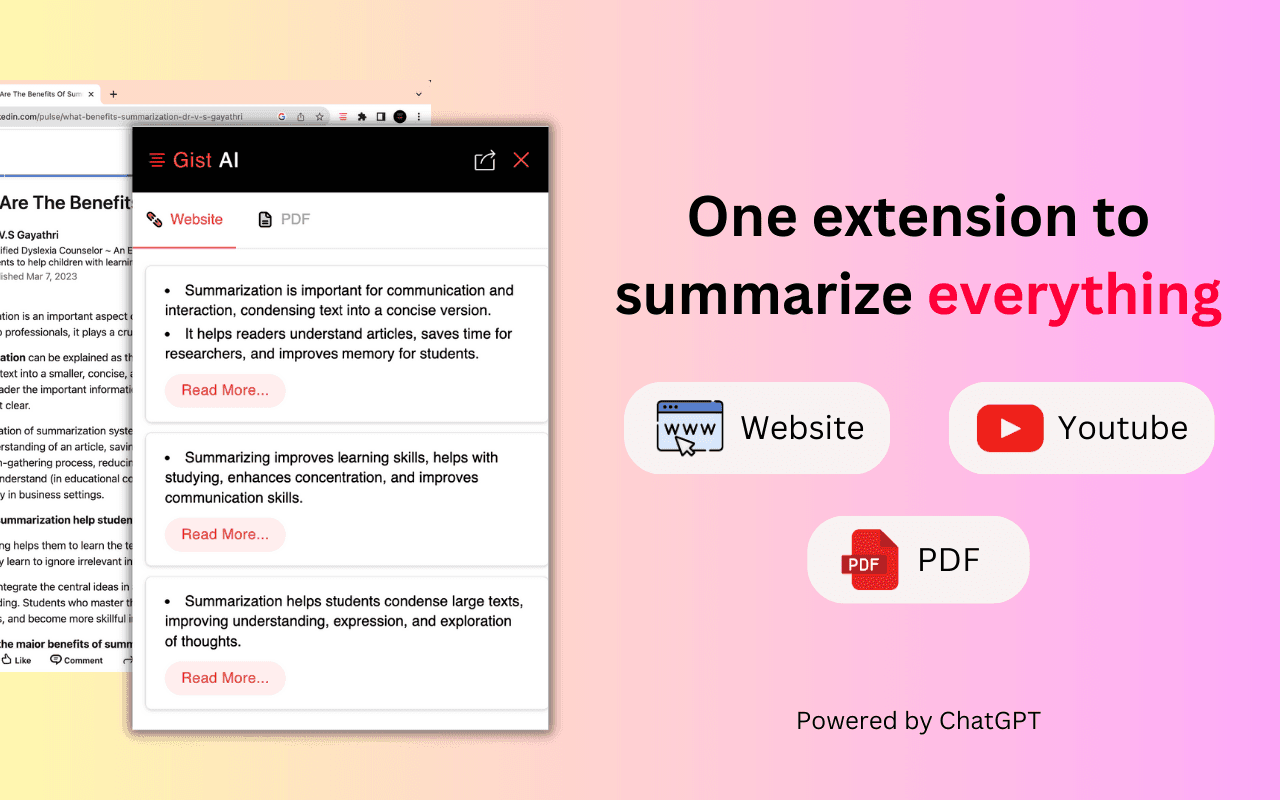 Read More of what you like
Our unique Read More feature allows you to deep-dive into the source of the summaries that interest you the most.
No more fluff or distractions!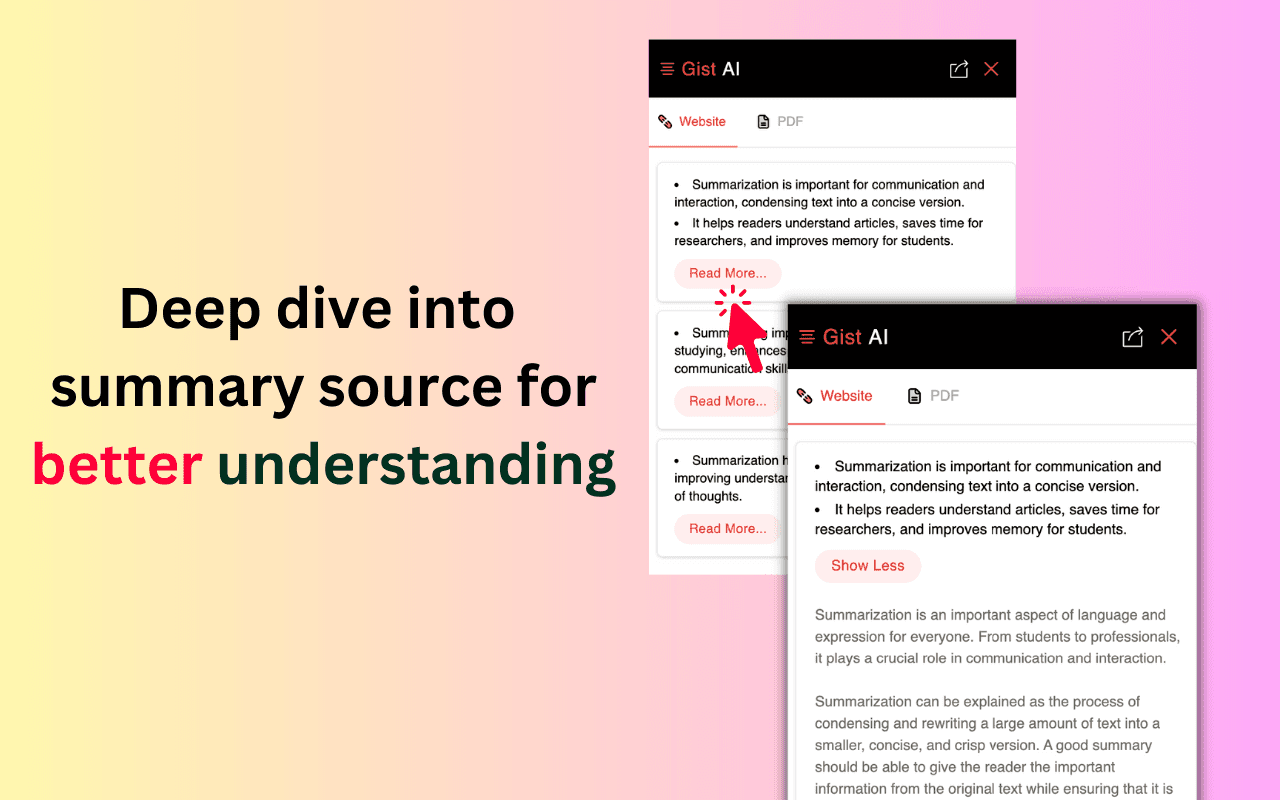 Jump to core segments of a YouTube video
Quickly skim through the summary and only watch the parts of the YouTube video which are relevant to you.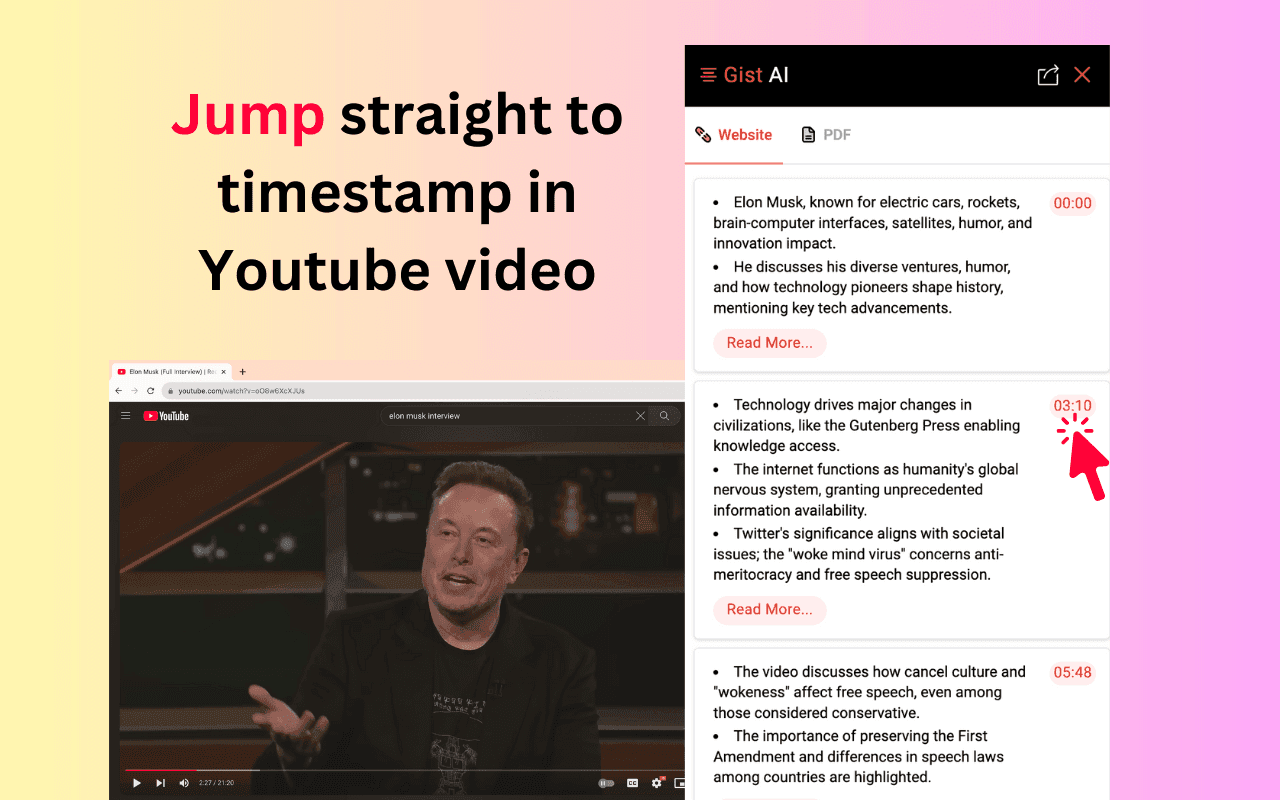 Summarize any PDF
With Gist AI, you can get summaries for PDFs found online as well as those saved on your device.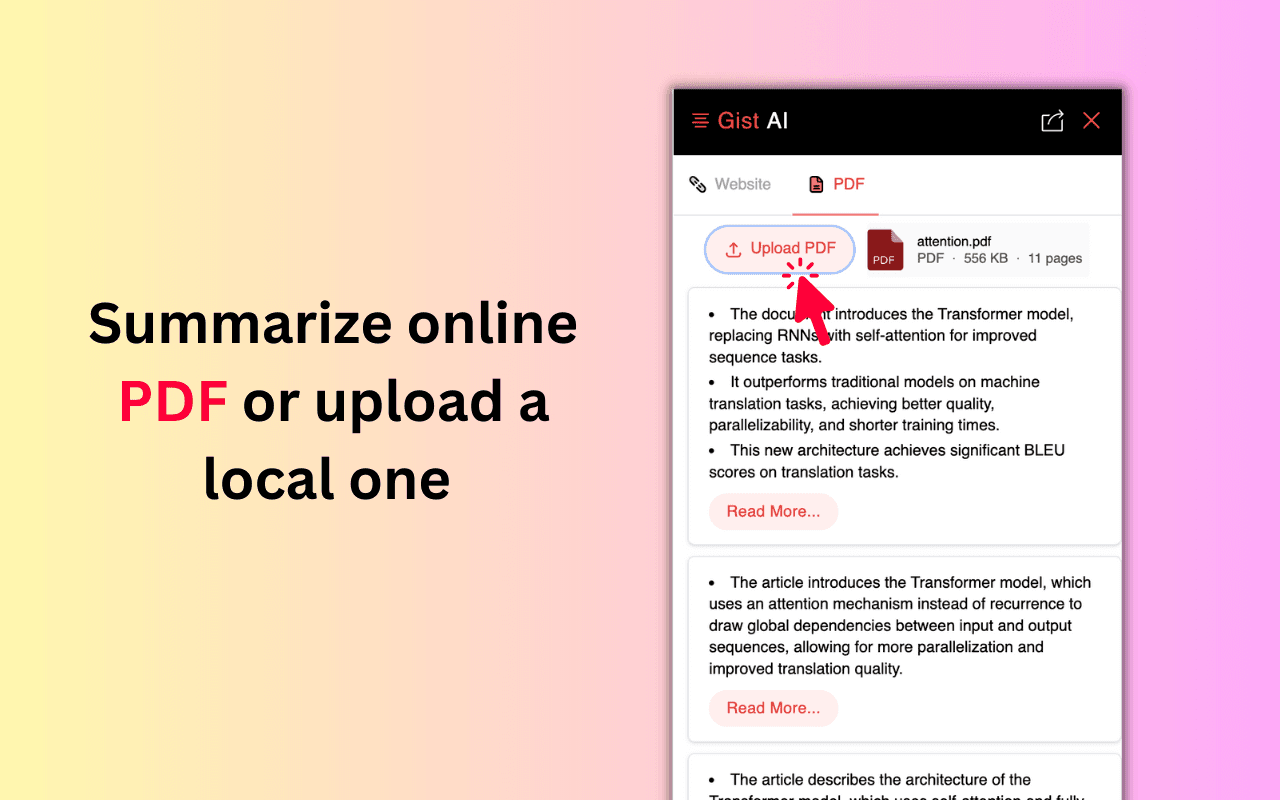 Understand better
Our research-backed technique improves comprehension and focus by breaking down long articles, PDFs or videos into smaller parts.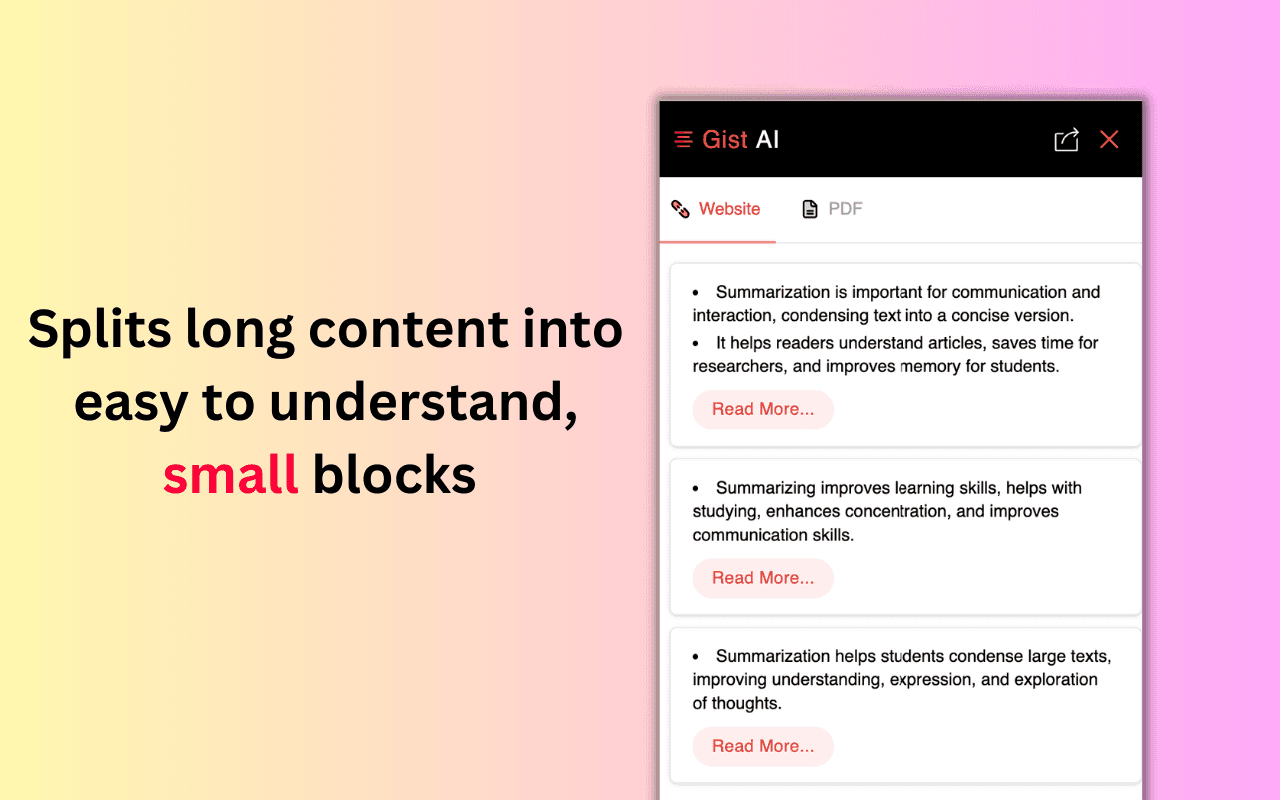 Frequently asked questions
What makes your AI summarizer different from others?
How does the AI PDF summarizer work?
How can I use your tool to summarize websites or YouTube videos?
Is there a free version of the summarizer available?
Is there a feature to summarize books, research articles or longer documents?
Can the Chrome extension summarize articles from any website?
Is the summary generator safe to use?
Can ChatGPT summarize YouTube videos?
How does the AI-powered PDF summarizer enhance the summarization process?
How does your summarizer ensure content is not plagiarized?
Customer Testimonials

It is a great tool for students and professionals alike and the software understands exactly what points and figures in the article would be useful for the reader very well. There have been many times when I needed to comb through huge articles to find the most important points for a business report or a presentation and GistAI does just that in a matter of seconds.
Sambuddha Guha
Business Analyst

As someone who rarely has any patience to read on pages and pages of any article, this extension is a life saver for me. This extension streamlined the contents of the articles with a great deal of precision for me. As a student I do have to read quite a few tech related articles and this extension just made my day to day work way more easier.
Sunny Basu
Research Student

With all the content that we consume on a daily basis this extension is a life- and timesaver. Would highly recommend for anyone to give this a try.
Joris Langewouters
Consultant
Contact Us
We would love to hear from you! Provide feedback, ask questions, request features or report bugs by filling this 2 minute form.
Privacy Policy
Gist AI does not collect any user data. The only information shared with the AI model (chat.openai.com) is the article content in order to generate the summary. More details
© 2023 Copyright: Gist AI